K2109(G) Trough Planter with Wheels
customers are viewing this product
The trough planter is designed for gardening flowers, veggies and herbs in a narrow area. Its sleek 3' x1' size and clean bottom make for the perfectly versatile indoor and outdoor planter. An elegant decoration that allows practical flexibilities for today's gardener. Also ideal for using as a space divider, with multi sets of different heights set inline. Caster wheels assembled for additional mobility.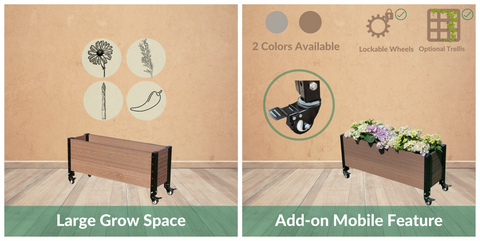 【Large Grow Space】
This planter offers plenty of space to grow various types of herbs, flowers and vegetables.

Classic neutral style and clolour bring a great match to any decoration style of your home and premises.

Perfect nice-looking ornament to narrow areas like wallside, entryway and balcony, etc.
【Add-on Mobile Feature】
 With 4 caster wheels, this elevated planter can be moved to fit your garden layout design and ensures that your plants get the right amount sun and shade.

The lockable function keeps the planter in place to ensure extra safety and stability, especially under windy weather.Wheels are recommended to use on hard, sturdy ground for easier rolling.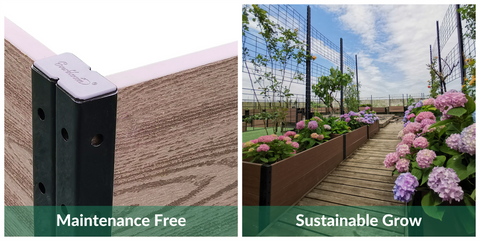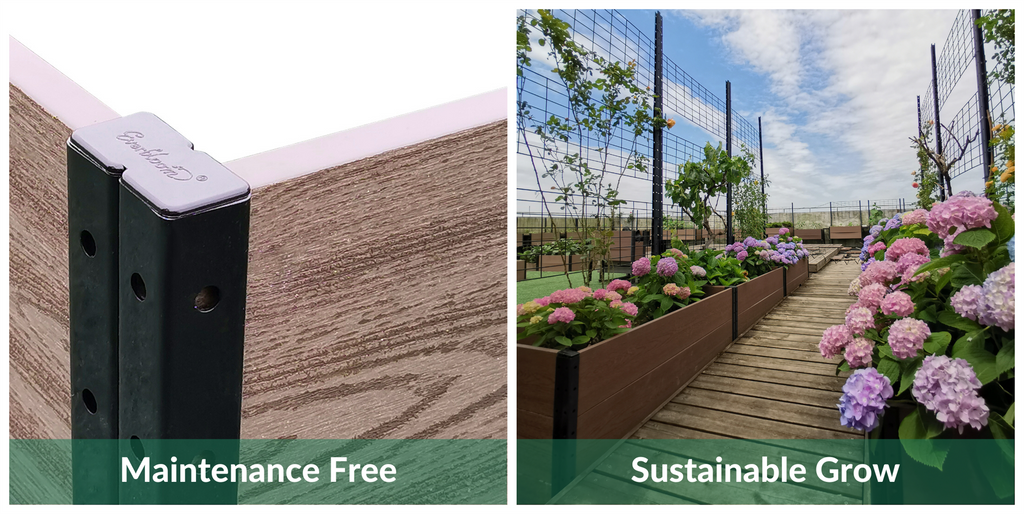 【Maintenance Free】
Galvanized and coated with UV resistant powder, the steel brackets support the garden bed though each season without going rusty and decoloring over the years.

Wood plastic composite boards provide a genuine texture of wood while maintaining sturdy and durable structure for outdoor environment.
【Sustainable Grow】
The raised height reduces the need for weeding and watering, protects plant from pests and keeps the soil under better control.

Galvanized finish on the steel brackets prevents the garden bed from getting too hot under high temperature weather.
【Specification】
Material: Wood Plastic Composite

Product Assembled Dimension (inch): 36" L x 12" W x 17" H

Package Dimension (inch): 38.58" L x 21.65" W x 4.92" H

Package Weight (lb): 37.25

Soil Volume: 3 cu. ft (22 gal) of potting mix

Load Capacity (lb): 150

Number of Drainage hole: 2

Recommended Location: Indoor/ Outdoor
【More Options】

| | | | | | | |
| --- | --- | --- | --- | --- | --- | --- |
| Picture | | | | | | |
| Product Name | Everbloom K2109 Trough Planter with Wheels  | Everbloom K2110 Deckside Planter with Wheels | Everbloom K2112 Deep Trough Planter with Wheels  | Everbloom K2111 Corner Planter with Wheels | Everbloom K2113 Elevated Planter with Wheels  | Everbloom E334519W Elevated Planter with Wheels  |
| | Buy Now | Buy Now | Buy Now | Buy Now | Buy Now | Buy Now |
| Dimension  | 36" L x 12" W x 17" H  | 45" L x 19" W x 17" H  | 36" L x 12" W x 24" H  | 19" L x 17" W x 24" H  | 19" L x 17" W x 31" H  | 45" L x 19" W x 36" H  |
| Soil Volume  | 3 cu. ft (22 gal) of potting mix  | 4.5 cu. ft (34 gal) of potting mix  | 4 cu. ft (30 gal) of potting mix  | 2.5 cu. ft (19 gal) of potting mix | 1.5 cu. ft (11 gal) of potting mix  | 4.5 cu. ft (34 gal) of potting mix  |
| Load Capacity  | 150 lbs  | 200 lbs  | 180 lbs  | 100 lbs | 70 lbs  | 200 lbs  |
| Planting Depth  | 7.5 or 10 inches  | 7.5 or 10 inches  | 7.5/10/14.4/16.9 inches (Based on How It Is Assembled)  | 7.5/10/14.4/16.9 inches (Based on How It Is Assembled)  | 7.5 or 10 inches  | 7.5 or 10 inches  |
| Material  | Wood Plastic Composite  | Wood Plastic Composite  | Wood Plastic Composite  | Wood Plastic Composite | Wood Plastic Composite  | Wood Plastic Composite  |
| Recommended Location  | Indoor/Outdoor  | Indoor/Outdoor  | Indoor/Outdoor  | Indoor/Outdoor | Indoor/Outdoor  | Indoor/Outdoor  |
| Lockable Wheels  | Included  | Included  | Included  | Included | Included  | Included  |
| Trellis  | Optional  | Optional  | Optional  | Not Applicable | Not Applicable  | Optional  |