K2105(G) Footed Trough Planter with Trellis
customers are viewing this product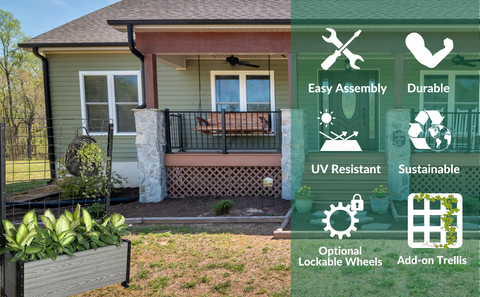 The trough planter is designed for gardening flowers, veggies and herbs in a narrow area. Its sleek 3' x1' size and clean bottom make for the perfectly versatile indoor and outdoor planter. An elegant decoration that allows practical flexibilities for today's gardener. Also ideal for using as a space divider, with multi sets of different heights set inline. Caster wheels can be assembled for additional mobility.

The Trellis provides extra functions to your garden beds and planter boxes. The heavy-duty steel brackets and galvanized and powder coated steel ensure a strong and durable frame that can last more than 5 years.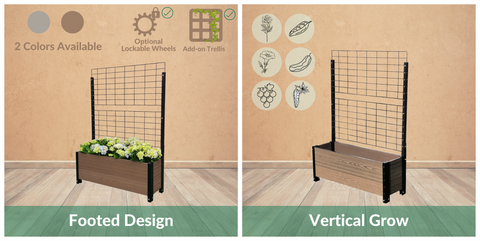 【Footed Design】
Keep your gardening area clean and tidy.
Classic neutral style and clolour bring a great match to any decoration style of your home and premises.
Perfect nice-looking ornament to your front or backyard, rooftop, deck and patio.
【Add-on Vertical Grow】
Vertical growing space is extended by combining the raised planter with trellis to make vining plants grow freely, therefore creating a gorgeous and decorative scene.
Easier harvesting also comes along with no need to bend over, making a healthier gardening experience for you. Besides that Vertical growing makes sure you don't miss harvesting your cucumbers and pole beans that may hide behind the bushy green leaves.
Growing with trellis brings straight and clean fruit, especially for vegetables like zucchini, squash and cucumber.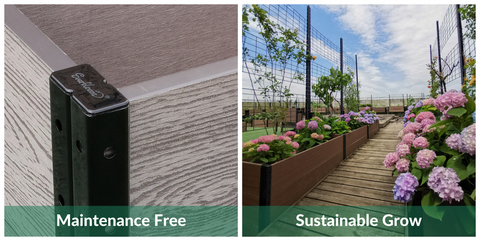 【Maintenance Free】
Galvanized and coated with UV resistant powder, the steel brackets support the garden bed though each season without going rusty and decoloring over the years.
Wood plastic composite boards provide a genuine texture of wood while maintaining sturdy and durable structure for outdoor environment.
【Sustainable Grow】
The raised height reduces the need for weeding and watering, protects plant from pests and keeps the soil under better control.
Galvanized finish on the steel brackets prevents the garden bed from getting too hot under high temperature weather.
【Specification】
Material: Wood Plastic Composite

Product Assembled Dimension (inch): 36" L x 12" W x 50" H

Package Dimension (inch): 38.58" L x 21.65" W x 6.49" H

Package Weight (lb): 47.04

Soil Volume: 3 cu. ft (22 gal) of potting mix

Load Capacity (lb): 150

Number of Drainage hole: 2

Recommended Location: Indoor/ Outdoor
【What's in the Package】
【More Options】