K2134 Cascade Raised Garded Bed with Trellis
customers are viewing this product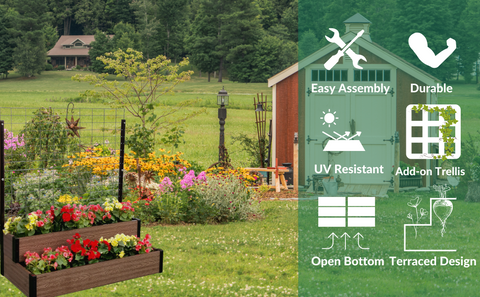 Cascade garden beds not only welcomingly present all your plants in well-organized tiers, but are also suitable for growing different rooted veggies, flowers and herbs. Our cascade garden beds provide 2 comfortable depths of 7" and 14", to accommodate almost all root depths, in different sizes and directions to fit into all your available space, front yard, backyard, roadside, or wallside.
The Trellis provides extra functions to your garden beds and planter boxes. The heavy-duty steel brackets and galvanized and powder coated steel ensure a strong and durable frame that can last more than 5 years.
【2 Tier Terraced Design】
This terraced design raised garden bed brings 2 growing areas for plants with different heights and root systems.
Vertical growing space is extended by combining the raised planter with trellis to make vining plants grow freely, therefore creating a gorgeous and decorative scene.
Easier harvesting also comes along with no need to bend over, thus delivering a healthier gardening experience.
【Open Bottom】
This raised garden bed has an open bottom, which allows draining of excess water and free growing of plant roots.
Classic neutral style and color bring a great match to any decoration style of your home and premises.
Perfect nice-looking ornament to your front or backyard, rooftop, deck and patio.
【Maintenance Free】
Galvanized and coated with UV resistant powder, the steel brackets support the garden bed though each season without going rusty and decoloring over the years.
Wood plastic composite boards provide a genuine texture of wood while maintaining sturdy and durable structure for outdoor environment.
【Sustainable Grow】
The raised height reduces the need for weeding and watering, protects plant from pests and keeps the soil under better control.
Galvanized finish on the steel brackets prevents the garden bed from getting too hot under high temperature weather.
【Specification】
Material: Wood Plastic Composite

Product Assembled Dimension (inch): 45" L x 27" W x 50" H

Package Dimension (inch): 48.03" L x 16.34" W x 10.23" H

Package Weight (lb): 52.16

Soil Volume: 5.3 cu. ft (40 gal) of potting mix

Recommended Location: Outdoor
【What's in the Package】
【More Options】